Lesson 13

By Mary Ann Boysen

Let's face it. If you live in the South or the Midwest, or the Northwest, your summer landscapes are GREEN! It is well known by watercolorists that green can be a difficult color to deal with. Often it turns to mud right in front of your eyes as you paint. That is because the colors that you add to it can be the ones that will turn it to grey or brown or just plain YUK!

Related topics:
Many years ago, I learned that if you keep your paper wet while working with greens, you will provide the atmosphere for the green color (or mixture of colors) to vary from light to dark, or warm to cool on the paper. BUT you must remember not to use your brush like a broom. Drop the color on the wet paper and allow the water to do the work for you.
If you are painting on dry paper, then you must remember to use the largest brush that is possible for the size of the paper and load it with water as well as color. Water is the key element.
---
Now, if you really want your green summer landscapes to sing, add a complimentary color but don't mix the two into one muddy color. Remember that complements create a shimmering effect upon each other. So if you load the two on your brush and drop them onto wet paper, and allow the water to mix them, they will shimmer. You can also drop the complement into the green after you have applied the green to the paper.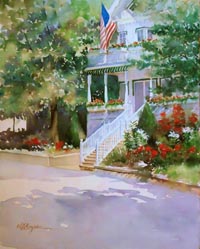 In order to have interesting green summer landscapes, mix your own. Greens straight from the tube are only good when you are painting a local color of a particular object. Even then, if you add a warm or a cool color to that green, you add interest to the color. I prefer to use a blue and a yellow. The color you are trying to achieve will determine which blue and yellow you must use.
For bright, spring greens, a good combination is Cobalt Blue Hue (Holbein) and Hansa Yellow (WN). Of course there are other combinations, but this is my favorite. If you live in the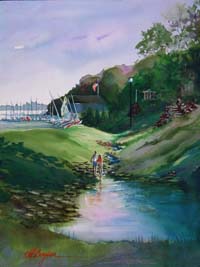 Southwest where greens are a bit muted and appear grey green, then Cobalt Blue and an earthy yellow like Q-Gold or Raw Sienna make an appropriately grey green. Much of these color mixtures are explained in my article on Color Harmony.
Notice all the colors I put in the tree to the left of the house (above right - click picture to enlarge). There is blue, purple, gold and pink. Those colors prevent the green from overtaking the painting and being dull. Had I brushed them together on the page, they would have turned to mud, no doubt. I just dropped in the colors while the green was wet, and let nature take its course.
The greens in this summer landscape also have reds and golds into the highlights and blues added in the shadows. Notice that the water reflections are also full of color (even in the dark green reflections).
This technique takes a bit of patience and a lot of courage. We tend to want to control every stroke and go back and forth with our brush like we are sweeping the floor, but believe me, that does NOT work. It is always best to allow the water to transport the color on the page. Wait and see what happens. It is more often than not a success, even giving us some "happy accidents" on occasion.
---
---
<<Return to Lesson 12 Painting Lace