Lesson 5
By Mary Ann Boysen
---
A cloudless sky should be painted with transparent colors, with smooth glazes, graded washes and the like.



Stormy skies are achieved best with opaque colors, and some complementary colors, with bold diagonal strokes (to denote movement, wind, etc.)



Sunsets are dramatic with complementary colors. (blues and orange, purple and yellow, magenta, orange, yellow and blues) They can be calm, with few or no clouds, or dramatic with angry dark clouds against a brilliant light.



Rainy skies are more monochromatic, and painted with more vertical strokes.
You may think that clouds are white, but they, like other white things, are loaded with color. Once again, I use glazes of the primary colors to get started. When the blue of the sky is painted over these pale primaries (yellow and red), the clouds will pop forth when you paint around them. While this wash is still damp, the edges can be softened with the tip of a thirsty brush.
Notice that cumulous clouds are warmer in tone on the bottom than in any other area. The bottom may appear to be a dark or medium gray….but there is a warm tone (possibly because they are reflecting the earth and they are full of moisture that blocks out the sunlight.)
Another approach to try, is to dampen the paper, allow it to lose its shine, then paint a blue sky on pure white paper. If you want clouds, paint around them, soften the edges. You might like this effect better. You will probably want to add color to the clouds to make them appear 3 dimensional.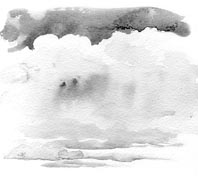 Try more skies with bolder colors such as French Ultramarine Blue and Burnt Sienna. These colors work well for stormy skies. Dampen the paper so the color flows nicely. Just be bold and slosh the paint on in quick, but strong stokes. Don't be shy.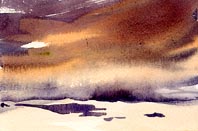 The paintings can be either warm or cool in appearance.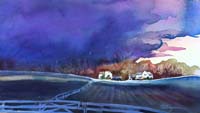 << Lesson 4: Watercolor Horizons

Lesson 6: Watercolor Painting without Drawing >>

Return to Watercolor Lessons

My E-Books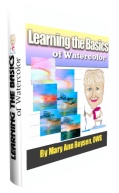 Learning the Basics of Watercolor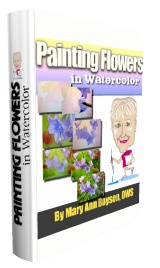 Painting Flowers in Watercolor