For All Levels of Watercolor Painters
My name is Mary Ann Boysen and I have been sharing watercolor painting tips with my classroom students, and in books, for many years. While I still teach, I also travel extensively which limits the amount of classroom time I have.
So I decided to expand my web presence with watercolor-painting-tips.com to let my students, and anyone else who might be interested, find answers to questions without having to signup for a class.

Watercolor Painting Tips Categories
This is just a short synopsis of what is on this site. For more information go to Watercolor Lessons.
Equipment
Watercolor Paper
Learn about the differences between watercolor paper. I will also introduce you to alternative media such as watecolor canvas and clayboard
What makes good watercolor brushes? It depends on what you want to use it for. Most art supply dealers carry many brands of brushes, and some of them have brushes made under private label by the best.


Flat files for storage and mat cutting tables.

Palettes I have tried many palettes over the years, and tell you about the ones I think best in this article.

Watercolor Paint - Where To Start
When I first began taking watercolor lessons, I was afraid to waste money on the finest watercolor paint, or pigments. So, I bought the student grade Winsor Newton.

Techniques
Common Watercolor Techniques You Need to Know
This entire site is about watercolor techniques. But here, you will find a growing list of step by step techniques I use to create my watercolor paintings.

Watercolor Landscape by Mary Ann Boysen
Read about my approach to painting a watercolor landscape. This happens to be my specialty and have a lot of my watercolor work here to share.

Free Watercolor Lessons by Mary Ann Boysen
Learn to paint in watercolor from MaryAnn Boysen in a personal setting or with free watercolor lessons provided on this site.



Struggling with watercolor This page shows how I struggled with finishing a watercolor, in a step by step method



See how to paint on Watercolor Canvas
See the stet-by-step of Painting on Smooth Claybord

See Painting on R-tistx Board




You can also see the 20 videos of mine on Youtube.
My E-Books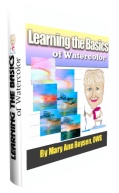 Learning the Basics of Watercolor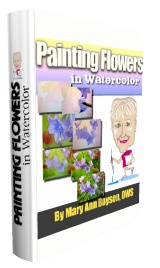 Painting Flowers in Watercolor