By Mary Ann Boysen

I'd like to share how not using large brushes in a watercolor landscape can lead to big mistakes when painting detailed areas of your painting.

Recently I was teaching a class on the farm where my studio is located, and one of my demonstrations turned out well. I used large brushes, simple strokes, and very little detail except for a tree trunk in the foreground.
The results of this effort was a quiet, and calming simple landscape. There is a variation of color to keep it from looking drab. I am proud of it.

On another day we painted the new barn. This was also a lesson in painting without drawing. It was also about using large brushes, actually the largest we had our box. We also tried to use as much color as possible, trying not to just copy the colors we saw. Of course, it was late afternoon, and Mother Nature helps a bit with the colors of the late afternoon sunlight.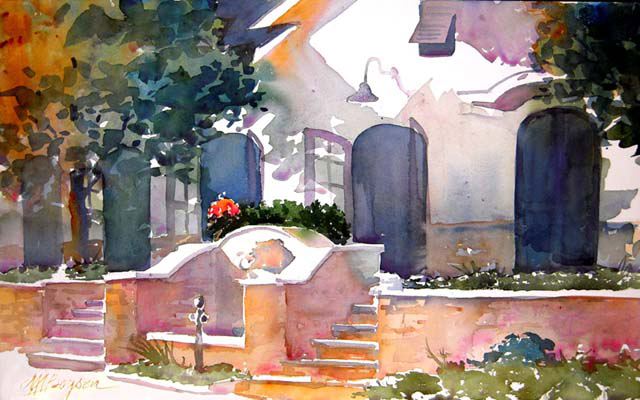 I entered this painting in an online contest, and it took a First Place. I was surprised and delighted.
When you don't set your mind to filling a space with color and using large brushes you can fall into the trap of trying to paint every leaf on the tree. Here is an example.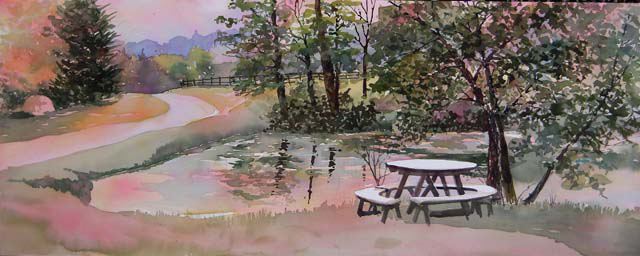 Then the following week, my emphasis was on putting colors in the landscape that don't actually exist there. My purpose was to teach the students that an artist can paint the world any color he chooses. It was to be a colorful painting, creating excitement for the viewer. I started correctly,with the colors, then I went wrong in changing from using larges brushes to a very small one for the leaves on the trees. We were also facing the sunset, so there was a bit of silhouetting of the trees and bushes, which is probably what helped the destruction of the process.
Don't get me wrong. I love backlighting! But, because I used a small brush, much too soon, I totally destroyed the objective that I was trying to achieve. My students actually did a better job than I on this project! They love it when I fail. I decided not to go any further with this painting, as it will only get worse. I may, however, start over and hopefully do a better job. In starting over, I am sure that the result will be better. We learn from our mistakes. I only need to keep in mind what my task was to achieve....no straying from the path...no detail that isn't necessary.
I received an email from a student that I had this summer at Chautauqua, and he thanked me for what he had learned, and his statement included this phrase: "May my brushes be big, my strokes few, and my values varied. " I wish I had kept this in mind as I attempted this painting.
---

---
My E-Books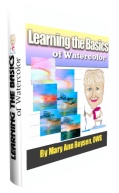 Learning the Basics of Watercolor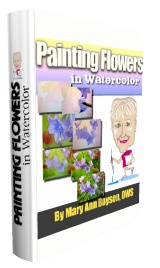 Painting Flowers in Watercolor