By Mary Ann Boysen

I've been creating watercolor journals as I've traveled for years. I travel abroad one or two times a year, and throughout the U.S. I always come home with new journals to document my trips.

My trips aren't always about watercolor painting and teaching watercolor, sometimes they are just to get away. And for the past few years I have also been going to South Africa to visit Sparrow Village; a home for children and adults who are HIV positive, or have AIDS.
As I travel, I will be adding new pages about each trip along with my complete travel journal. Otherwise, they just pile up and home and I can only share them with friends and family.
I encourage you to paint everyday. Create a journal no matter where you are. It can be images you see at home....like what is left over from breakfast! It is a way to practice your craft. Try painting without drawing first, so that you can do these painting sketches quickly. If you are ever on a cruise and have very little time to paint on your shore excursions, you will appreciate the fact you can do these quickly.
Of course you can take photos to paint from but the feeling just isn't the same. I find it is important that I took notes of what was happening around me, so that as I look back, it stirs up wonderful memories.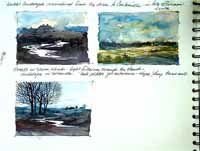 When traveling by car on long distances, I record in my mind any dramatic landscape scenes that I see. It takes a bit of practice; but, it is easier than you think to conjure the image up when you reach your destination. Think of colors that you see, then memorize the shapes. Then begin to paint little value sketches, or color sketches in your watercolor journal.
My watercolor journals are 12" x 16" American Journey Watercolor Journals. There are many other types of watercolor journals out there, but be sure that the paper is at least 140# (200# is better) so that it does not buckle when dampened.
Write down anything that comes to mind about the images. My journals are my diaries. The information is usually related to time and date and specifics like that as opposed to artistic references like color and approach. They are not necessarily kept as sketches for future paintings. I just enjoy the experience as I am sitting on location and painting. I also do not take the time to draw before I paint in my journal. I have learned to look for shapes in order to compose a painting, and will talk about that approach more in another section of this site.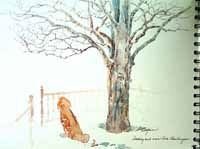 While visiting friends on Chautauqua Lake in NY in the winter, I was drawn to this beautiful Maple tree growing out of their deck. Their Golden Retriever seemed to be longing for a summer dip in the lake, as he sat in the snow. I could sit inside the house by the large picture window while painting this. I try to keep my watercolor journals simple. If I have plenty of time, they usually cover the entire page. When I am on a tour and only have 15 minutes they are very small and I can put several on a page.
This tree was begun by wetting the entire trunk with water and dropping in browns and blues and allowing them to mingle. Trees are not just grey. They have personality. The only way to have them appear interesting is with color...even if you don't see it at first. After the trunk is painted, I add the secondary branches in the same manner, with the tiny branches coming off them by using a rigger, or my favorite Lizard Lick brush. I make up these tiny branches, as I would go blind trying to capture every branch on the tree. And besides, it isn't important to paint them all.
Try laying a wash of water on your paper, then load your brush with a thin wash of blue (perhaps Cobalt Blue). Drop that color into the wet area and let the color float in the wet area. Then load your brush again with a brown, like Burnt Sienna, and drop that color into the blue area, and allow them to mingle. Do not brush them together. You can tilt the page and watch them run together. Or you can just let them float together with the paper flat.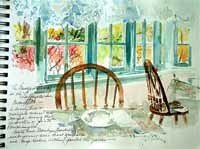 Never pass up an opportunity to paint a memory. While waiting for my breakfast at a charming Inn in Easton, PA, I decided to paint the windows, chairs and table settings in my watercolor journals. If I had not done this, a photograph would have been lost in some box in the attic! I can look at this and remember everything about this place.
Also this was done without a pencil in hand. Of course, I don't suggest that you never draw, but it is a real brain exercise to create with shapes. For instance, each window pane is a rectangle. Treat it as if it an entire painting, and go on to the next.
If you look closely, you can see that I painted the chairs over the windows. You can see the blue-green through the brown. All rectangular shapes should be painted with a flat brush. The initial wash is simply one stroke of the brush. Then you can add the detail...as in the tree branches.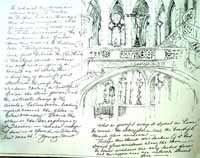 Sometimes it is just not appropriate to whip out your paints, so a pen will do. This is the interior of a beautiful church in Paris, that sits beside the Pantheon. There was an organist practicing or giving a little concert that afternoon, and I was in need of rest.
I listened to the music while I sketched the amazing carved stone balustrades and windows. I also didn't hesitate to jot down my thoughts and descriptions of the afternoon. Even when sketching I think of shapes, like the dark areas that you see. I see them as negative shapes (that which is behind the subject), and when I place them on the page, the actual subject appears.
In this case, of course, the stonework was white. Sometimes the subject is darker than the background, then there is another approach.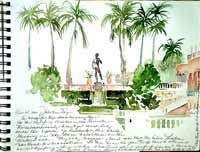 Here, the subject is darker than the background. I began with the statue; actually only the dark shapes of the statue. Each shadow is a shape. From there I worked outwards with the balustrade and then the greenery beneath it, taking care to paint around the base of the statue.
The greenery is actually a negative shape. I then painted the palm trees to add height to the painting, and also began the process of painting the dark shapes behind the balustrade on the right side (negative shapes) and this made the posts of the balustrade appear to be white; or light in color. You will also see this technique repeated in the foreground balustrade.
I usually leave an area in my watercolor journals to jot down my description of the place...Another memory.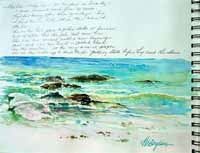 It had always been my desire to paint ocean waves, and what better place than Hawaii? The colors are vivid, and quite jewel toned, which adds to the excitement. I sat on the beach in front of the Kappalua Hotel on Maui, and began with the horizon blues, adding warmer colors as I coaxed the color down the page, which allowed the sand to show through the clear water.
I took care to paint around the white foam and layed in the color of the rocks. When all was dry, I went back for the details in the water with fairly thin pigment, as I didn't want the water to be anything more than transparent. The rocks, of course, were much heavier pigment, as they are heavy and opaque in nature.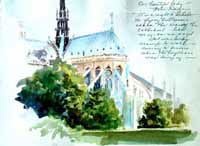 Back on the other side of the world in Paris, France, is one of the most beautiful structures in the world...Notre Dame Cathedral. If you have never seen it in person, the description is magnificient, loaded with lacy detail and difficult to paint.
Here is where one must eliminate, eliminate, eliminate!
Standing on a bridge across the Seine (where artists usually show their paintings for sale), I stood in deplorable conditions...wind and a slight rain! No wonder the artist had not set up his wares yet! After a short period, I gave up, but I had captured the essence of the building with its flying buttresses, and had time to right a comment or two on the watercolor journals page.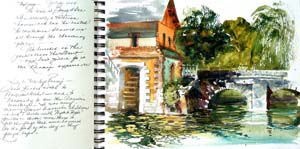 In northwestern France, I took my students to a farm near Renazé. From there our hosts took us daily to ancient villages to paint. This charming mill in Bourg d'Iré (no longer in operation) has been made into an apartment to rent. We were able to tour it.
The beautiful setting was on a narrow river (We would probably call it a large creek), and the colors were reflected in the water as it flowed under the bridge and down a little waterfall to the river below. On the other side of the bridge was an old wash house, where people brought their clothes to scrub against the slanted stone blocks that led to the river.
I sat on the bank and painted this scene much like others in my watercolor journals, beginning with the arch in the bridge, and working out in all directions from that point. As stated in the narrative, after the workshop in Renazé we then proceeded to Mont St Michel and to the American Cemetery in Normandy.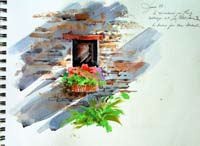 The barn in Renazé is 300 years old, with thick stone walls, most of which are covered with passion fruit vine. I actually think the vine is holding it together.
We painted on the property for several days, as the gardens were beautiful (and I updated my watercolor journals). In ancient times, people lived upstairs in the barn, and the cattle, horses, cows, pigs and goats lived on the ground level. This had been made into a Bed & Breakfast (and more), and my room was the pig-sty. Our hostess was also an artist, owned a gallery in town, and her husband was our cook.
We had fabulous French meals three times a day. The noon meal was usually a picnic with leftovers from the night before. If you are interested in this type of location, I highly recommend it. Contact: Sue Goodchild at good.paint@wanadoo.fr
For this journal sketch, I began with the geraniums, leaves, and window box (following my rule that one should paint the lightest and brightest colors first). When all was dry, I painted the contrasting window down to the top of the flowers, dabbed it with tissue and a stroke of a thirsty brush to create the glare. With a dry brush technique (only a damp brush) I picked up darker colors from my palette to paint the stones in the wall. When all was dry, I loaded my brush with some blue and brown (which makes gray), and swished it across the page for the shadows. Simple and quick....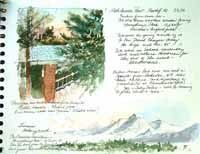 One can always paint from hotel window, and that is just what I did in Flagstaff, AZ, as it was cold and snowing in late February. We were on our way to see the Grand Canyon.
Here, I outlined a space to confine the painting to a smaller scale. I also added ink lines after the painting was completed just to add some punch to the work.


WOW! The Grand Canyon is BIG! Only the South Rim was open due to the frigid weather. As I painted this in the cold shade of a tree (never paint in the bright sun), my friend soaked up the sun like it was a Florida beach; while I worked on my watercolor journals
As in the previous journal sketch, I added ink lines after the painting was done, to add more contrast to the subject. I had only intended to paint on one page, but it just kept growing. and growing!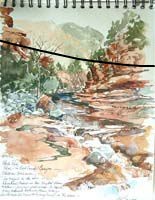 While exploring Oak Creek Canyon, I sat on a rock in the middle of the stream, and painted the majestic red rocks just north of Sedona, AZ. Peace and quiet reigned, except for the gurgling stream and the water bugs.
To begin this, I started with the mid-ground trees, and the red rocks on the opposite bank. Then, the stream, reflections, and rocks in the foreground. The pale rocks in the distance were added next, and the limbs of the tree were done with an ink pen.
These kind of watercolor journals conjure up memories that a photograph just doesn't have the capability to do. It is because, it takes more observation and time to do this. You really must try painting in a travel journal.
Below you will soon find links to more and complete watercolor journals. It takes too much time to do it all at once but I am eager to share these with you.

Advance to Lesson: 34, Using Large Brushes for Effect>>
<<Return to Watercolor Techniques
---

---