Lesson 26:
by Mary Ann Boysen
---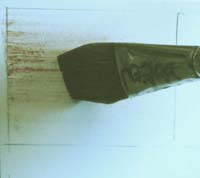 Dry Brush Watercolor Techniques -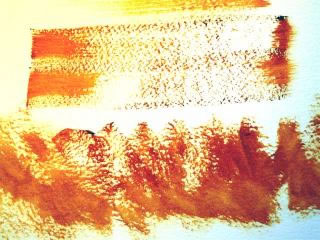 This is a detail technique, when you do not use much water on the brush, but apply the color with a brush that is not dripping wet. You have quite a bit of control with this method, but it should be used for textures and detail. You cannot paint a sky with a dry brush without it taking a week!
Wet your brush slightly, and dip it into the chosen color. Take a towel or tissue and blot the moisture from the ferrule (the metal part that holds the bristles, until most of the moisture is soaked up). Then you are ready to drag the brush across the page as seen above.
The first illustration shows the technique of lightly applying color with a slightly damp brush loaded with color that is not diluted with water: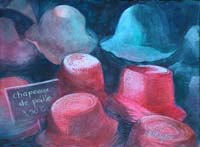 The following are some finished paintings in which I used the dry-brush technique for effect.
First is a group of straw hats that I saw at a French Market: Instead of painting every thread of straw in the hats, I used my flat brush loaded with the color and lightly dragged it around the surface of the hats, criss crossing the strokes to create the woven pattern.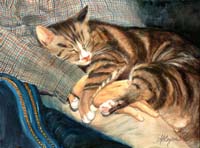 Next is cat fur: After applying an under painting of the colors of the cat, I used the dry brush technique to give the impression of his fur. So you see, there is a mixture of the softness where needed and contrasted with the texture of the longer hair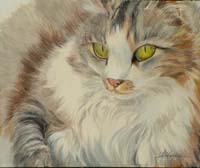 Another example of this is seen here: This is also a mixture of the two techniques.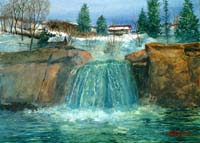 In paintings of nature and rocks, I use the same technique of doing the under painting first, then applying color in a blotchy way with a dry brush for the rock texture. The strokes in the upper left corner depicting the fine tree branches is also done with a dry-brush.

<<Return to Lesson 25 Using Alcohol for Texture
Return to Watercolor Techniques
You can also see the 20 videos of mine on YOUTUBE.