The watercolor canvas offers the ability to change, to erase mistakes, to create a traditional watercolor look or to make the painting appear like an oil (strong and bold color, with texture). In my book about the canvas, there are paintings with step-by-step procedures that you can follow, or you can apply to your own subjects. Each of them deal with a slightly different approach to the watercolor canvas.
•Canvas Preparation for studio and plein air painting
•Totally Transparent Painting
•Using "opaque" transparent pigments for strengthening contrast
•Making changes mid-stream (wiping out parts that you don't like, so that you can start over in that area)
•Changing the total color scheme
•Ûsing a fixative between transparent layers or to save a specific part
•Optional techniques

In addition, there are inspirational quotes to keep you on tract, and to give you the courage to make changes in your approach to watercolor and to remind you that change is inevitable if you want to grow as a painter.

This e-book is in pdf format for easy reading from your computer. I suggest you print the table of contents, so that you will know exactly what page you wish to read first! or which page you need to return to quickly, when you are learning a new technique.
• The e- book is in PDF format
(you need the latest version of Acrobat Reader )



Internet Explorer has the best way to view multiple page .PDF files. Click on those links to download those programs.

$14.95 •••••••••••••••••••••••ORDER NOW •••••••••••OR, READ ON.
I suggest that you start with small canvases, perhaps the panels that have the watercolor canvas adhered to the surface. They are easy to handle and when the painting is finished, it can easily sit on a table easel without the expense of framing. BUT, to enhance them for hanging on a wall, they should be framed. You may also use the pre-stretched watercolor canvases in small sizes.
There are many finishes that can be used to protect the painting, and selection of those that you prefer will create the final look of the piece, whether it be watercolor or oil in appearance.
There are sprays that must be used, but in addition (and optional), there are gel mediums that can show brush strokes as if the medium was something other than watercolor. They are made in matte, semi-gloss, and gloss finishes, and each gives the art a different look.
••••••••••••••••••••••••••••••••••••••••••••••••••
BIG NEWS!
One of the most exciting things about the canvas that no one has mentioned yet is that if it becomes wrinkled before you stretch it (or if it appears buckled on the stretcher bars), there is a simple solution:
WET IT!
The canvas shrinks so fast that you can watch the wrinkles disappear before your eyes. This also means that you can easily pack it in a travel bag by folding it, if the size is too large for your suitcase! Once it is placed on the stretcher bars and brushed with clear water, it becomes very taut, and devoid of wrinkles. You need not use canvas pliers to adhere it to the bars, nor the keys to make it tight.
NOW, doesn't that get you interested? Once watercolor paper is creased it is of no use! The watercolor canvas has eliminated that problem.
I am continually learning more about the canvas, and will be sharing new techniques along the way. Once you have purchased the e-book, there will be more information for you as I discover new ways to make it work with different approaches to painting.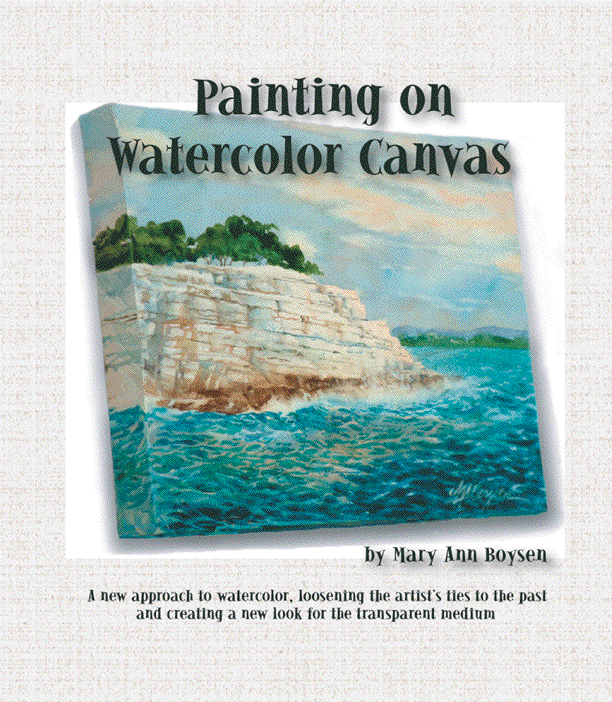 Watercolor canvas offers these diverse opportunities relating to style and appearance of the finished work:
*1__Light and watery as some traditional watercolors
*2__The appearance of an oil painting. This will depend on your preference and possibly the preference of your customer.
*3__ Easy changes during the painting process.
*4__ With the "gallery wrap", framing unnecessary
*5__ Lightweight for transporting
*6__NO GLASS/NO GLARE!
*7__ EASY SHIPPING by rolling up in a tube or
around the unassembled stretcher bars.
• Written in English, and can be downloaded directly to your computer in a matter of minutes. (less than 3 minutes with highspeed internet access).

$14.95
ORDER NOW from the link below.