Painting on Watercolor Canvas
is now available on this website in PDF format so that you can download it to your computer, and only print out the pages that you need for instruction. Just click on the title above to learn how to download it to your computer or scroll down this page.

I am continually learning more about the canvas, and will be sharing new techniques along the way. Once you have purchased the e-book, there will be more information for you as I discover new ways to make it work with different approaches to painting.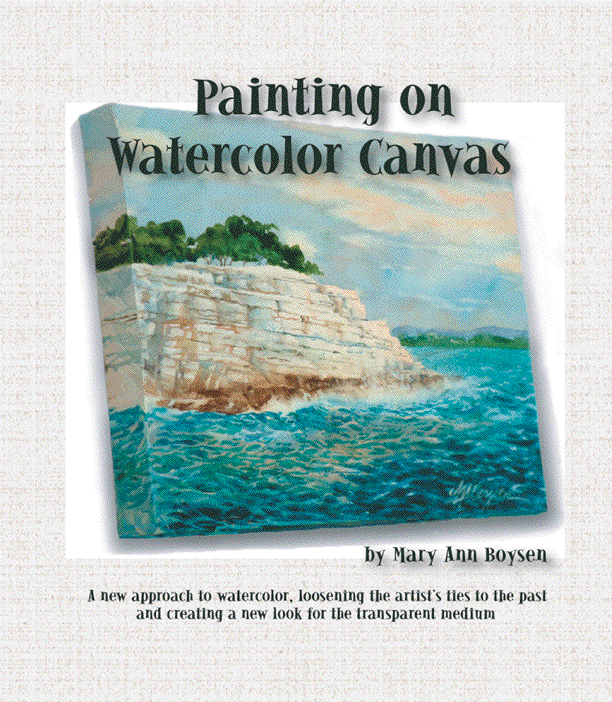 Watercolor canvas offers these diverse opportunities relating to style and appearance of the finished work:
*1__Light and watery as some traditional watercolors
*2__The appearance of an oil painting. This will depend on your preference and possibly the preference of your customer.
*3__ Easy changes during the painting process.
*4__ Framing unnecessary
*5__ Lightweight for transporting
*6__NO GLASS/NO GLARE!
*7__ EASY SHIPPING by rolling up in a tube or
around the unassembled stretcher bars.
• The book is in PDF format (you need the latest version of Acrobat Reader )



Internet Explorer has the best way to view multiple page .PDF files. Click on those links to download those programs.
The Painting on Watercolor Canvas book deals with the different ways to paint on watercolor canvas. and I hope that you will find the paintings and step by step methods to be of help in your desire for change.
In addition, there are inspirational quotes to keep you on tract, and to give you the courage to make changes in your approach to watercolor and to remind you that change is inevitable if you want to grow as a painter.
• Written in English, and can be downloaded directly to your computer in a matter of minutes. (less than 3 minutes with highspeed internet access).• There are 80 pages, some of which are instructional, and others inspirational. $24.95
ORDER NOW from the link below.