Lesson 25
by Mary Ann Boysen
Alcohol Textues Watercolor Technique:
- Of course, you know that alcohol and water don't mix, therefore, alcohol, when sprinkled into a wet wash of color creates a texture. It repels the paint and pushes it aside. The effect is different if you sprinkle alcohol first, and then add the paint. Quite an interesting phenomenon.
When alcohol is sprayed onto the wet pigment, it causes a "foam" appearance and is great when painting water that is rushing over rocks, ocean waves, etc.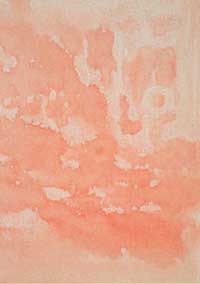 When it is applied to dry paper, and then the paint is applied, it seems to leave dark spots on the page. This is not always the case. It may have to do with the sizing in the paper. You just need to try it first on a scrap of paper like the one you are painting on, so you can better see the result you will get.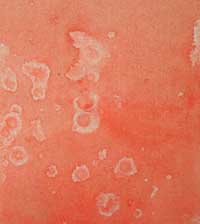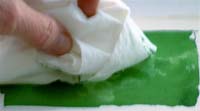 Tissue Paper Texture: - Tissue paper is useful in creating textures in foliage, rocks, etc. The paint on the surface should not be so wet that it is still shining or you would pick up all the paint with the tissue. Paint that has "lost its shine" is still damp enough to have textures created by the blotting of tissue.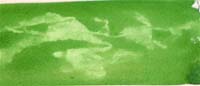 Here's what the tissue paper technique looks like when I'm finished.
Plastic wrap texture: -
Plastic wrap can be applied when the paper is wet, but must stay on the surface until the paint is dry. First, create wrinkles in the plastic by wadding it up, and then flatten it out on the surface of the paper (canvas or Claybord®). It can be pulled and stretched in different directions to alter the texture.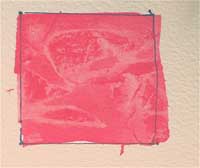 To add to the texture, salt can be applied under the plastic. When the plastic is removed you will have a texture much like this
If you need directional lines in your texture, it can be pulled and stretched in different directions to alter the texture
.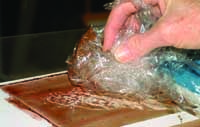 Plastic wrap can also be used on heavier pigment as a blotter like the tissue. It will pick up the pigment and leave wonderful textures.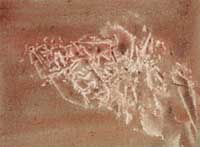 Make sure that the pigment is not really shiny and wet with lots of water. It needs to be juicy, with only a tiny bit of water added, so that the plastic can pick up the pigment to create texture.
If the pigment is too wet and thin, the color will just run back together after you lift the plastic off the surface. Timing is everything when using these techniques.
I am a firm believer that these watercolor techniques are only a means to an end, and should be disguised if possible, so that the viewer has something to think about. It is like the rule in flower arranging…Hide your mechanics! I usually paint back into these textures to fool the viewer into believing that I created it all by myself.